For all our Adventure Parties we suggest to have groups of at least 10 participants for maximum enjoyment!
GST will be added to all prices.
​
Paintball target shoot can be easily added to any adventure!

​$8.00 for 100 paintballs
---
Fun At Ravine Adventures
Duration: 2 hours
Cost: $198.00, up to 13 participants
Age group: 5-99
(For a bigger group please inquire)


You'll have fun rolling around in our Bubble Ball, get your leg muscles going on the 4 Pedal Go–Karts, use your coordination skills playing a round of 9 hole (portable) Mini Golf, shoot some targets with a paintball gun (100 paint balls included) and to top it all off, we'll end the party with a game!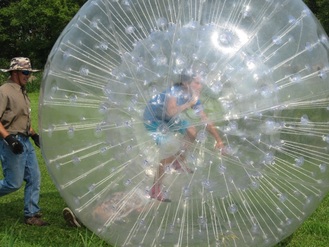 ---
Indiana Jonez
Duration: 90 minutes
Cost: $150.00 up to 15 participants
Age group: 8 – 12


​This adventure is geared to solve the mystery of the "Valley Of The Silver Eyes"! The tour guide only has a paintball gun and the tour members have to find and eliminate targets along the way! "The Valley Of The Silver Eyes" is fun for every Indiana Jonez who likes the outdoors! There might just be a yummy treasure at the end of the adventure.
---
Little Nature Explorer

Duration: 1 hour
Cost: $85.00 + $2.00 per participant
Age group: 3-8

​An adventure that is geared towards 3-8 year old little nature explorers. To start, every participant creates a name tag. As we explore the Ravine, we look for and collect different-colored objects found in nature. Each child gets a 'booklet' to put their collection in, to take home with them. After the hike, there is a small craft. Think crafts are for the birds? Well, in this case, you'd be right! The program ends with a fun "owl eyes" game.
---
Giggles and Laughter
Duration: 2 hours
Cost: $170.00 + $2.00 per participant
Age group: 3 – 10 and all others who are young at heart!


Have fun playing different simple carnival games, like three in a row, go fishing, shoot for the stars and more. Parachute games and a water game (depending on weather condition), are part of the fun! The 9 hole (portable) Mini Golf course is set up and is waiting for you to take your turns.Small prices included!
---
Winter Activities