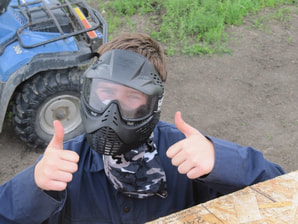 ​Ravine Adventures offers fun and recreational paintball. We are able to accommodate smaller and bigger groups.

​​We pride ourselves in keeping every game safe. Our equipment is well maintained.
​Our coveralls are washed and our goggles are cleaned after every group of players.

Paintball is an exhilarating experience, excellent opportunity to work on and improve team working skills, a lot of fun, as much of a workout as you make it, and a healthy adrenaline rush!! There are obstacles galore of all different kinds. We added a small fort where "capture the fort" is played. You better be on your toes, because you never know where they are coming from!!
The safe zone doubles as a viewing area for non- players, great for taking pictures or making a video clip!
---
​Our $31.50 basic package includes everything needed to play.
​
​​
Coverall, goggle, bandana, gloves, gun and 200 rounds of paint-balls are all included! You will bring the shoes, and for your own safety no flip flops or open toed shoes, please.
10 years and older!
Extra paint
$36.75 per 500 (1 bag)
$126.00 per 2000 (1 box)


Remember
NO WAIVER = NO PLAY